We are delighted by the support we receive throughout the year from Owners and Trainers and are therefore proud to have won the Best Small Racecourse in the UK award from the ROA in 2017 & 2019 and Best Owners Experience Award from the RCA. We have also held the ROA Gold Standard for the last 9 years. These accolades are due to the support and lovely feedback that we receive from visiting Owners, Trainers and their guests by visiting www.roa.co.uk/feedback
Parking and Access
Dedicated parking for owners, trainers and jockeys is available on all racedays allowing direct access to the racecourse. The Car Park is located to the North of the Racecourse in front of the stables and is a short walk from the Owners and Trainers Pavilion. Please note this car park is on a first come, first serve basis.
The postcode for your sat nav is EH21 7PR. Please also see the map at the bottom of the page.
A taxi from Edinburgh Waverly to Musselburgh Races is approximately £20 per trip.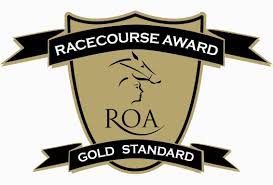 Badges
We operate the PASS System and therefore encourage all Owners & Trainers to arrange their tickets via the online Concierge Service prior to arrival. The Concierge Service can be accessed via www.rcapass.com. Badges can also be requested from Jane Walker by e-mail jwalker@eastlothian.gov.uk until 9am on the day of racing.
Sole Owners, Partnerships and Syndicates – All receive 6 complimentary Owners badges
Refreshments
Owners with a runner on the day will receive four complimentary lunch vouchers. Your voucher entitles you to a 2-course meal in the Owners Harris Tweed Bistro. A table for lunch can be reserved from gates open until the last race.
We do not limit the size of your party in the Bistro, please book a table for all you guests and you can pay for additional meals on the day. Jane will be happy to take your Bistro booking for Lunch at a time to suit you and your guests. Please call 0131 665 2859.
Facilities
Musselburgh Racecourse provides a dedicated hospitality and full bar pavilion for owners and trainers, situated behind the Parade Ring. The Nairn's Oatcakes Owners and Trainers Pavilion allows great viewing of the finish line and the parade ring. On warmer days there are tables and chairs on the private lawn between the marquee and the Parade Ring.
ROA Members without Runners
We offer 2 badges per badge scheme member for entry into the Owners Pavilion where you will receive complimentary light refreshments. This is for all fixtures (except Ladies Day). Please present your PASS card at either of our Owners & Trainers entrance on arrival.
The badge scheme - Owners with 5% or more of a horse trained in Scotland can take advantage of the ROA Scottish Racing Admission Scheme. To register, visit www.roa.co.uk
Owners Team
We have a small dedicated team on hand at every race meeting.
Jane Walker - will help you prior to your arrival with badge requests and Bistro bookings. Should you require transport or recommendations for accommodation she can help you there too.
On the day Jane is on our Owners PASS desk in the Links Pavilion (main entrance). Should you have any queries throughout the day a member of staff can contact Jane for you.
Joan Barret - will assist you at our car park entrance with badges and any queries you may have.
Fran Marshall & Sheila Dodds can be found in the winning connections hospitality room and around the parade ring throughout the day. Both ladies will be delighted to welcome you for a glass of Champagne and refreshments should your horse be placed. Here you will also see a re-run of the race.
Photography
Our raceday photographer is John Grossick. Photographs are available for purchase from www.grossick.co.uk
USB
If you'd like to order a USB stick of your horse's race please let us know on the day or call Racetech on 0208 947 3333.
AT MUSSELBURGH RACECOURSE THE HORSE COMES FIRST
We want to get it right for every horse that competes at Musselburgh. This starts with producing the best possible racing surface and providing five star, modern facilities.
Our team of experienced and dedicated ground staff ensures that horsemen, stable staff, jockeys, owners and trainers can be confident in running their horses at Musselburgh. Knowing that every effort has been made to provide the best possible racing surface for their horses.
On arrival, our horses are stabled in Musselburgh's modern stable yard, with hot and cold wash down facilities. All horses are monitored before, during and after racing by vets from the world renowned Royal Dick Vet teaching hospital just outside Edinburgh, with dedicated vet nurses to help. If any horse is injured and needs to be assessed further they are taken to the brand new, state of the art, Equine Hospital 20 minutes away. (www.ed.ac.uk/vet)
We understand how important it is that stable staff and horses who stay overnight are comfortable and safe. Our stable manager, Brian Melrose provides overnight supervision of all horses. He ensures their horses sleep well, on deep shavings or paper beds. Stable staff, who travel with their horses, are provided free accommodation in our local award winning Premier Inn.
We are passionate about providing a 5 star service to everyone, this includes the racehorses. After all, without them, we would not be able to stage this fantastic day of sport
What are the different ownership types?
Sole ownership - For people who wish to own a horse outright.
Company – For organisations wishing to own a horse under the name of a company or business.
Partnership - For two or more registered owners that wish to own a horse together. Partnerships are likely to comprise family or friends and allow owners to share in the responsibilities of racehorse ownership.
Syndicate – For a group of people coming together to own a horse, but who do not have to be sole owners in their own right. The ownership is managed and set up by a syndicator who is responsible for the syndicate. The syndicate can be formed as a result of a public offering and often comprises a larger number of people than a partnership.
Racing Club – For a group of people coming together to experience the thrill of racehorse ownership. The club manager will be responsible for the racing club, but unlike in a syndicate, members of a racing club do not own the racehorses. Instead members are likely to pay a subscription in order to enjoy some of the benefits of racehorse ownership.
Becoming an Owner
Horse racing captivates the imagination of millions of people across the world and, unlike many other sports, you can be right at the heart of it by becoming a registered racehorse owner.

From purchasing your horse at the sales, through naming and choosing your very own racing silks, arriving at the track to see your horse run, to leading them into the winners enclosure, owning a racehorse is a remarkable journey.

There are over 13,500 registered owners in the UK, all of whom play an influential role in supporting this great sport which we love. You can be become one of them in a matter of days.
Local trainers can be found at http://www.scottishracing.co.uk/map-locations/
For more information on Syndicates and Racing Clubs, please visit http://www.inthepaddock.co.uk/